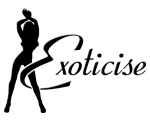 Pole Tricks 101: Pole dancing tones and strengthens the body using your own body weight to build lean muscle.During the course you will learn dance and aerial moves on dance pole.
Pole Tricks 101 is for all levels, shapes & sizes (the pole can hold up to 300 lbs).
Join Exoticise Master Instructor Jaguar Rain as you learn how to work the pole!
This is Pole Tricks 101 so its for EVERYBODY. The goal of this class is to build up your upper body strength so that you can move on to POLE 200 where we do all the fancy stuff you always see!
Pole Dancing is great for toning up your body and increasing your confidence!
$40 for per class
$160 for 5-Weeks of classes
Payment Plans available
Register
Online
Via Phone (773-596-1885)
or at ABS Fitness Studio
What to Bring/Wear:
Exercise Tubing (see picture & link below)
– we will use this to build muscle in class AND at home so you need a set with MULTIPLE strengths (click the picture or use this link to order from our store –>GET EXERCISE TUBING)
Water
Towel
Form fitting workout clothes (nothing super baggy) NO SHORTS!!!
– Yoga Pants/Capris, Tank Tops, Fitted T-shirts, etc…
Flexible shoes
– Regular gym shoes are kind of stiff so think "keds"/canvas sneakers, dance shoes, or even just socks
Excitement!